Our Marketing support
Have you ever asked yourself what marketing and salt have in common? Actually, there is more to that comparison than meets the eye: both salt and marketing are needed to add flavour to a product, making its consumption more enjoyable. Food without salt will be bland.

The same relationship can be observed between other products and marketing as well: marketing enriches a customer's experience of a product. If you provide a story and emotional hooks for your product, you markedly increase the likelihood of customer purchases.

A sustainable brand strategy has to include you telling the good news to your customer base. Therefore, we offer you a whole host of services and support to help you develop and improve your marketing efforts in that domain. We can provide you with texts and materials that help you get your green message to your customers, in a language that they understand and in a way that highlights those features that make your green product(s) unique.
If you have any specific requests or questions about our marketing support, don't hesitate to contact us.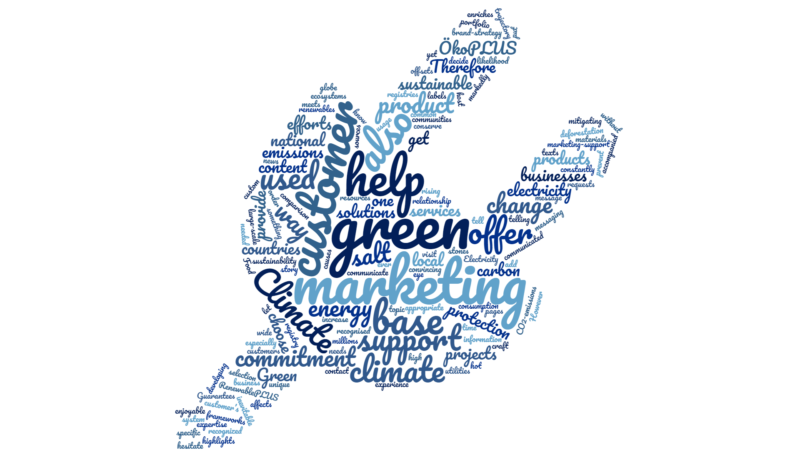 Green Electricity
Green electricity is only one of the stepping stones on your way to becoming a recognized green business. Your commitment to green energy also needs to be communicated to your customer base and that is where we can offer you our support and expertise. We have a comprehensive portfolio of content and services that help you communicate your green commitment to your customer base in a convincing way. When you choose one of our recognised labels for renewables – RenewablePLUS or GO NEW100 – you also get the appropriate content and material for your marketing efforts from us. Beyond that we can also help you craft your own messaging for your custom green energy products. However you choose to go green, we can help you tell your customer base about it.
Climate neutrality and carbon offsets
Invest in climate protection projects and offset inevitable emissions to help put the world on a sustainable trajectory. Climate protection projects prevent emissions, conserve resources, protect local ecosystems and help local communities all over the globe, especially in developing countries. We can offer you a wide selection of solutions to do that. If you decide to go with our own label EcoPLUS, we can also offer you comprehensive marketing support, so that you can let your customer base know about your commitment to sustainability and mitigating climate change.
For more information about climate neutrality visit our pages EcoPLUS and Climate neutrality solutions.